I've owned the Voodoo Lab Pedal Power 2 Plus for nearly 10 years now, and I've decided it's time to give it a review.
I bought this when I'd collected a few pedals and was starting to build out my pedal board. I knew that I needed a high-quality and reliable source of power. So, I did my research and landed on this. And I'm glad I did. 10 years later, and it's still on my board powering my pedals wherever I go.
In this review, I'll cover everything you need to know about the Voodoo Lab Pedal Power 2 Plus, my experiences as an owner, and whether it's worth your money.
Affiliate disclaimer:

This page contains affiliate links for products that I've tried and tested. As an Amazon Associate I earn from qualifying purchases at no additional cost to you.

Learn more here

.
Review summary of the Voodoo Lab Pedal Power 2 Plus
The Voodoo Lab Pedal Power 2 Plus is a solid and reliable pedal power supply unit. This has been my only pedal power supply for 10 years now, and it's never let me down.
It supplies steady, filtered power to all 8 ports. Each port is also isolated, which means that there's no humming caused by ground issues. This keeps my pedals sounding clean, which is essential when it comes to playing live or recording in the studio.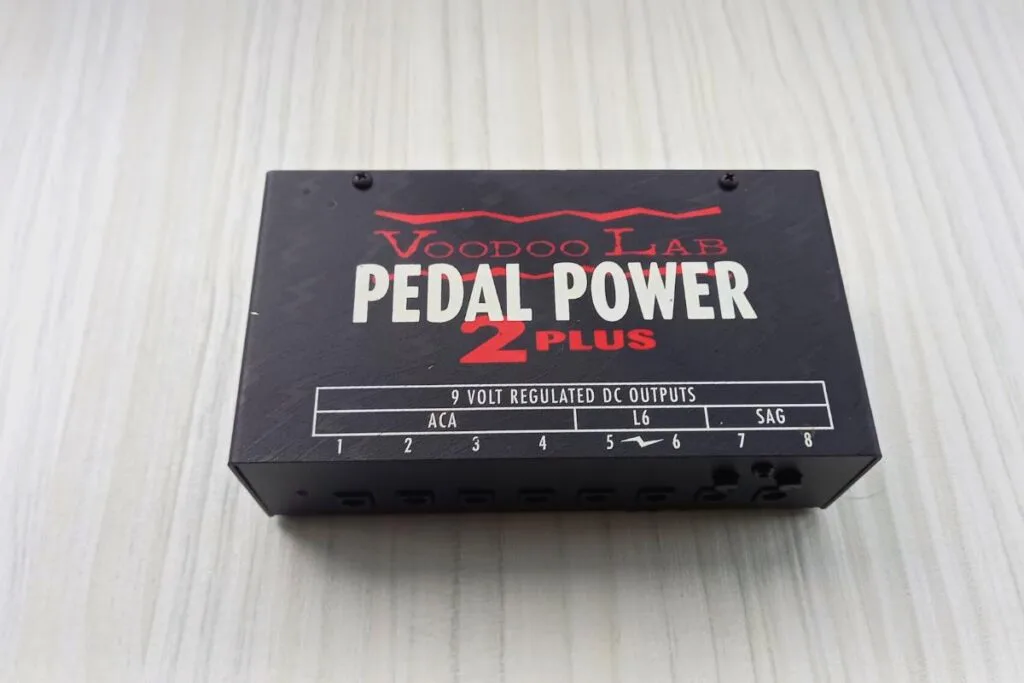 The variety of power options makes it incredibly flexible and adaptable to each individual's needs. It can handle standard 9v Boss pedals, all the way to power hungry 24v pedals. It even includes an additional power outlet on the back that can power 200v effects pedal units.
The extra "SAG" feature is also useful at authentically replicating a "dying battery" which can bring out uniquely vintage tones in older pedals.
The Voodoo Lab Pedal Power Plus 2 is pricier than other power supplies, costing around $199. But, I believe that its price is fully justified by its incredible build quality, wide range of features, and reliable performance.
When you're starting to build an effects pedal board and perform live, then a pedal power supply is essential. I'm confident in saying that the Voodoo Lab Pedal Power 2 Plus is one of the best. 
I'd recommend this for any guitar player that has multiple effects pedals and is looking for an efficient and reliable way to power them.
You can check out the latest price here on Amazon.
Features
The Voodoo Lab Pedal Power 2 Plus comes with plenty of features. Here's a list of them:
8 fully isolated power outlets
SAG controls (on output 7 and 8) to simulate a dying battery
DIP switches to select an alternate function for each outlet
A 200 watt AC outlet on the back of the pedal
Solid metal body
Filtered noise protection
Circuit protection to protect against surges
A wide range of connector cables for any type of guitar effects pedal
I think that the Voodoo Lab Pedal Power 2 Plus excels at the basics, while also providing some welcome extras.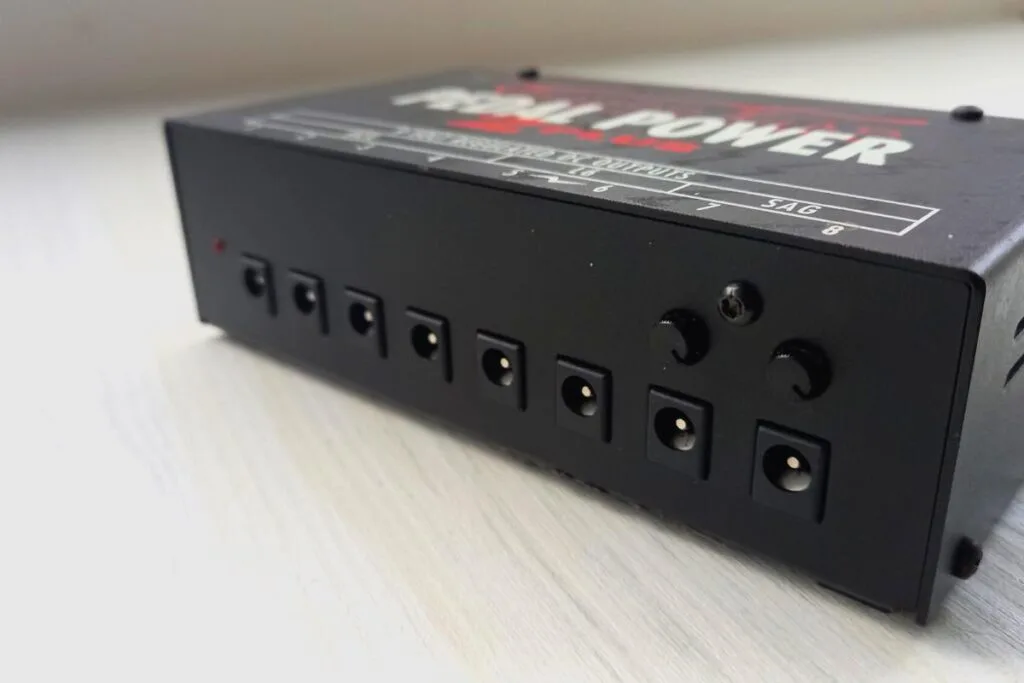 Let's start with the basics. Each power outlet is fully isolated which eliminates any dreaded ground-loop hum entering your pedal chain. Likewise, the built in circuit protection keeps your pedals safe from any electrical surges. That's an important consideration if you're running expensive pedals!
But, where this power supply unit really excels is in its added features: the DIP switches and SAG controls.
DIP switches
Underneath the pedal are eight DIP switches: one for each output. When they're set to "normal", each output supplies 9v of power. But, when the switches are away from "normal", the alternate function of each output kicks in.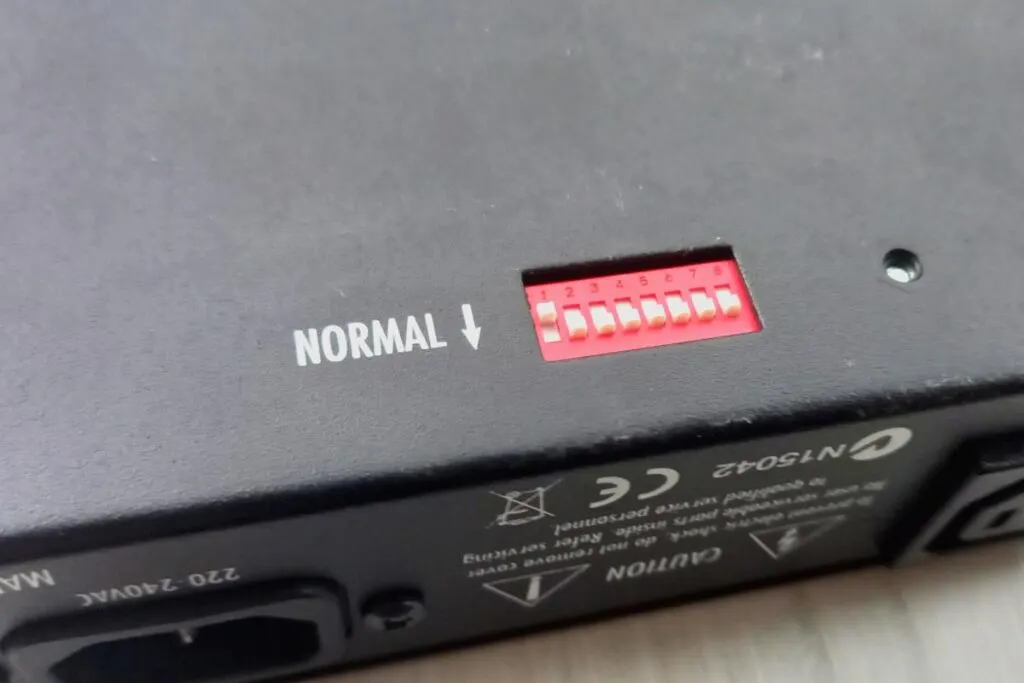 Here's how the DIP switches work:
| Outputs | DIP switch set to "Normal" | DIP switch set away from "Normal" |
| --- | --- | --- |
| 1-4 | 9v (100mA max) | 12.3v (60mA max) |
| 5-6 | 9v (250mA max) | 12v (250mA max) |
| 7-8 | 9v (100mA max) | Adjustable between 4v – 9v (100mA max) |
Source: Voodoo Lab Pedal Power 2 Plus Manual (Page 9)
Personally, I think this is what makes the Voodoo Lab Pedal Power 2 Plus stand out from other power supplies. The switches give it so much versatility.
This feature is a big plus for me, as I own some older style Boss "ACA" pedals, which need a 12.3v power supply. With a few flicks of a switch, I can power all of my guitar pedals from just one place.
SAG controls
The last two outputs of the Voodoo Lab Pedal Power 2 Plus (outputs 7 and 8) have an extra functionality called "SAG". SAG simulates the effect of a dying battery by letting you vary the voltage supply between 4v (min) to 9v (max). It's set by a knob under each output and is activated by flicking the DIP switch away from "normal".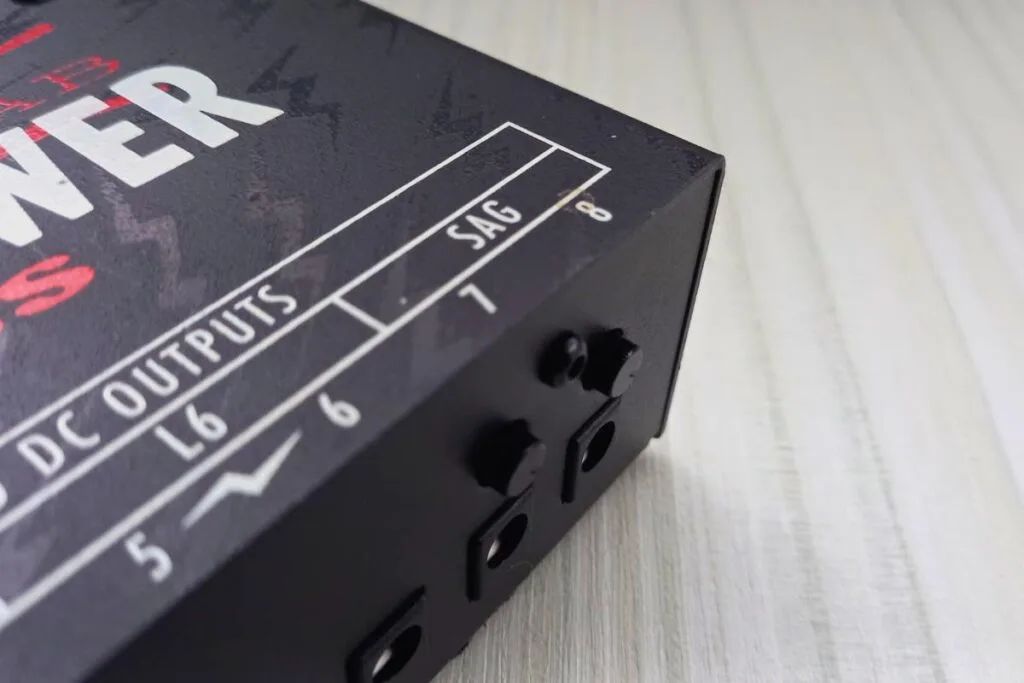 So, why would you want to emulate a dying battery? Well, some types of pedals (overdrive, distortion, and fuzz pedals especially) react differently to lower voltages. It changes their sound, usually making them a little grittier.
This is a feature for tone enthusiasts, and a really fun extra to play around with. I've found that I can get some really unique tones from it. I'm not aware of a SAG feature being on any other pedal power supply, even on the newer Voodoo Lab Pedal Power 3.
Build quality
The Voodoo Lab Pedal Power 2 Plus has a solid metal body. Mine has been bashed about over the years from travel and live play, but it still holds up. It's only showing the slightest signs of wear or tear, and it's only cosmetic.
The output jacks, switches, and knobs are all sturdy. After years and years of use, they show no signs of slowing down. These are high quality components.
The cables that come with this unit are also high quality. I've swapped them countless times between different pedals, stretched them out by running them under the pedal board, even caught them in the pedal case from time to time, and they're still going strong.
Ultimately, I really can't fault the Voodoo Lab Pedal Power 2 Plus on its build quality at all. It's a little tank. After nearly 10 years of regular use, it's still holding up strong.
Price
The Voodoo Lab Pedal Power 2 Plus costs around $199. Now, that's quite a bit of money. Especially for something as mundane as a power supply unit.
I remember thinking that when I bought mine. At the time, I'd have much rather spent the money on something exciting, like a new pedal or amp.
That's why I think the Voodoo Lab works better as a power supply for intermediate players. If you're just getting started playing, then I'd say use the money to build up your effects or invest in a better quality amp or guitar. Maybe check out a cheaper power supply like a MXR DC Power Brick (on Amazon).
But, if you're happy with your current setup and are looking to take the next step (maybe by building a pedal board) then I recommend getting the Voodoo Lab Pedal Power 2 Plus.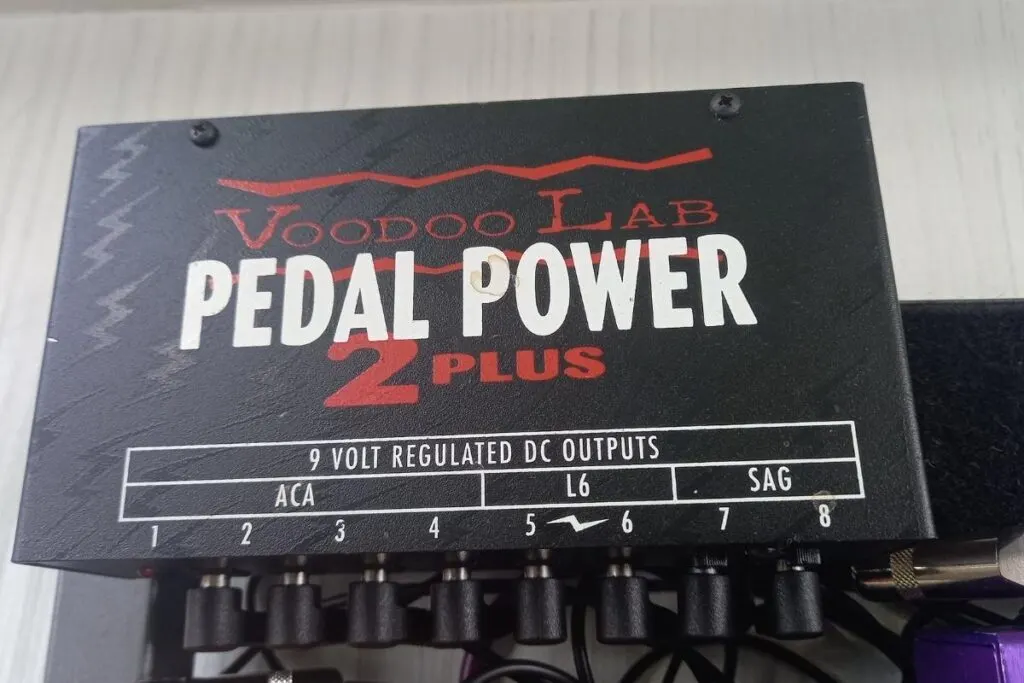 Even though it's slightly pricier than other power banks, I believe the price is justified considering its solid build quality, reliability, and additional features.
Controls
There aren't too many controls on the Voodoo Lab Pedal Power Plus 2. I did find that there was a bit of a learning curve with learning how to use the different features like the DIP switches, and what they do.
If you're not using all the functions all the time, then you can easily forget how to use them. So, it's helpful to keep a copy of the manual on hand (you can pick up a digital copy from the Voodoo Lab website here).
From a user perspective, I find the controls to be a little bit too fiddly for my liking. Both the SAG knobs and DIP switches are very small. But, in their defense, they're not meant to be changed "on-the-go". They're meant to be set and left. So, they get a pass for that.
Otherwise, there's not much to say about the controls on the Voodoo Lab.
How it performs
The Voodoo Lab Pedal Power 2+ has been my only power supply for my pedals for nearly 10 years now, and I've never had a problem with it. Not one.
Before using this power supply, I used to daisy-chain my pedals using a Boss 9v power supply and they sounded awful. This was caused by a mix of dirty power and ground loop hum. Once a these get into your signal chain, it'll be made much worse by everything that comes after it.
Since using the Voodoo Lab, I've no longer had to worry about getting dirty power noise in my signal. So, whether the venue I'm playing at has bad wiring, or I'm using a lot of electronic gear in the studio, I'll still get the same clean power to my pedals.
It's very much a "set it and forget it" kind of thing. It just sits there on my pedal board doing its job, and I never have to think or worry about it. It's been 100% reliable for me.
Final thoughts
The Voodoo Lab Pedal Power Plus 2 is a reliable, high-quality, and durable power supply unit.
As I said, it not only excels at the fundamentals, like providing isolated power and circuit protection, but the multiple power options gives it extra usability, and the SAG feature allows you to add some unique color to your sound.
The price may be a bit steep for beginner guitarists, but I think this is a worthy investment for anyone who's looking to improve and upgrade their pedal board, especially for playing live.
You can check out the latest price here on Amazon.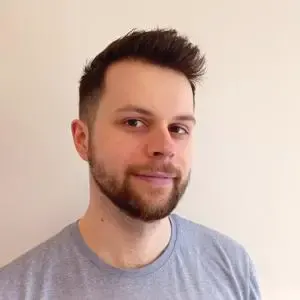 Conor is a music producer, multi-instrumentalist, and all-round enthusiast from the UK with over 15 years of experience. He's the founder and sole-content creator for the roundtable audio blog and YouTube channel.