The Yamaha Reface CS is an affordable, tabletop synthesizer that's designed to recapture the sound of the old Yamaha CS series, notably the CS-80 and CS-5.
I've owned my Reface CS for around 3 years. It was one of the first synths that I bought. During this time, I've used it regularly for both practice and recording.
I've written this review to share everything I've learned about the Yamaha Reface CS and give you a real users perspective on what it can do, and where I think it falls short.
Review summary of the Yamaha Reface CS
In my experience, the Yamaha Reface CS is a very versatile synth that's affordable and simple enough for beginners, but with plenty of features and tonal possibilities to satisfy more advanced players.
This synth is powered by a "virtual-analog" engine that very convincingly emulates the warmth and character of the vintage CS-80 and CS-5 synths that it's modeled after. I doubt that most people could tell that it isn't fully analog.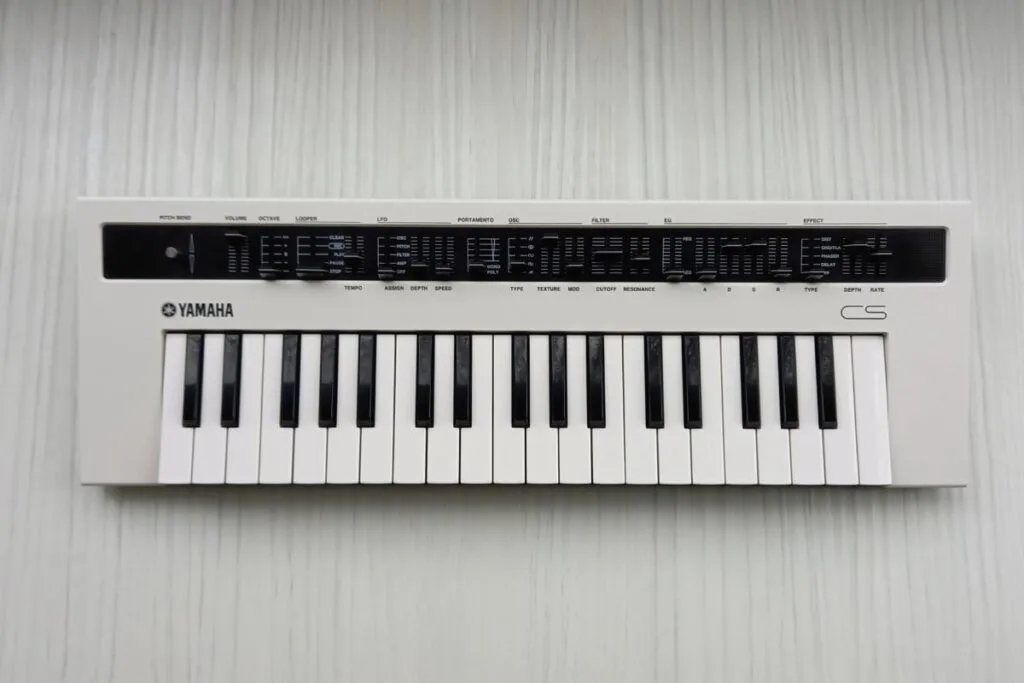 It has settings for either mono and polyphonic playing, allowing up to 8-voice polyphony, and has 5 oscillator types to choose from, each with their own additional modulation settings. This allows for a very wide-range of tones. Not only this, but the Reface CS also has 4 built-in effects that help you transform your sound even further.
From gritty Blade Runner drones, to delicate bell-like twinkles. Dark, thumping basslines to bright and powerful leads. You can get a really, really wide range of sounds out of this thing.
The lack of onboard memory storage is a bit of a let down. While you can store and recall your settings on an app or browser based system, it's a hassle to use. Similarly, some of the features like the built-in looper and pitch stick don't really land for me.
From a quality perspective, the keys and controls all feel very well built, sturdy, and feel good to use. All the controls are right at your fingertips, so there's no tedious menu diving: just plug in and play!
It also comes with built-in speakers and can run on 6 AA batteries, so you can make music on the go (but, it's fairly chunky, so you won't be using it on the bus or train!).
I recommend this synthesizer for anyone that's looking for a high-quality, versatile hardware synthesizer with plenty of character and a wide array of sounds. The price point makes it especially great for beginners!
Features on the Yamaha Reface CS
For its price and size, the Yamaha Reface CS comes packed with plenty of sound-shaping controls and features to satisfy both beginner and advanced synth-players.
Here's a list of the main features:
37 velocity sensitive mini-keys
Virtual-analog circuit
Mono or 8-voice polyphony
5 oscillator types
18db resonant low-pass filter
MIDI in/out port
Assignable LFO
5 onboard effects
Built-in looper
At the heart of this synth is a "virtual-analog" circuit that digitally emulates the warmth and character of analog circuitry. Even though it is an emulation, it's very convincing. It has plenty of grit and charm, without the cold-harshness usually associated with digital circuits. With the option of either mono or 8-voice polyphony, I'm able to create some authentic CS-5 and CS-80 patches.
Instantly accessible
One of my favorite things about this synth is that there's no menu diving. The whole synth is instantly at your finger-tips which makes it great for beginners. You just plug in and play! And everything makes sense for where it's placed. The knobs are small enough to save space, but still accessible and easy to use (although I find the pitch-stick to be a bit awkward!)
To me, this is a large part of the appeal of the Reface CS. I'm able to shape my sound using physical sliders, which feels much more creatively rewarding than scrolling through a menu.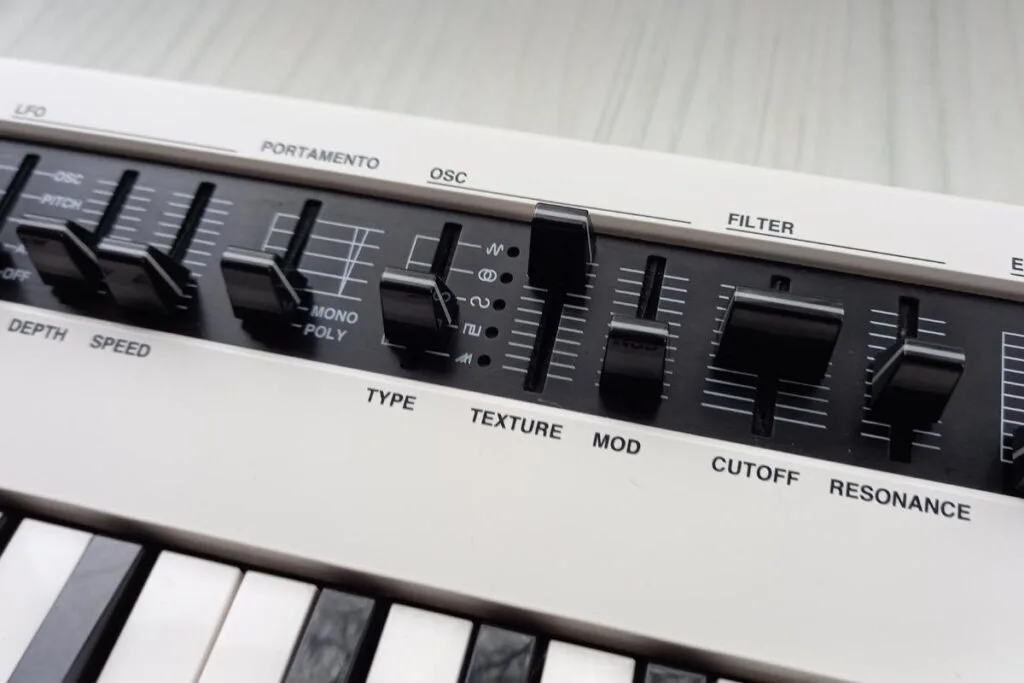 But, this lack of onboard menu does come with a downside: there aren't any memory banks to save patches to. I can understand that Yamaha maybe wanted to capture the authenticity of the old-school CS series, but it feels out of place on a modern synth. We have the technology! Let's use it! While there is an app (and a website) you can use to store and recall patches, it's a hassle to use.
Wide variety of sounds
The Reface CS has 5 oscillator types that change how the synth sounds. These oscillator types are:
Multi-saw
Square
OSC sync
Ring modulation
FM
Each one of these has their own settings that can be adjusted using the "texture" and "modulation" sliders. This gives you a whole host of sounds to play around with. Combined with the 18db resonant filter, this synth can handle anything from punchy-bass to soaring leads.
I've covered how it sounds in detail further on, but I'm very pleased with how these oscillators perform. It sounds much more powerful than its price range.
There's also a low-frequency oscillator (LFO) that can be assigned to 4 different parts of the synth circuit, namely:
Amplifier
Filter
Osc (a unique function for each oscillator type)
Pitch
This can help add some movement and interest to long synth pads or chords. But, you can also use it to add some more "analog" feel. By turning the speed up to high, and setting the depth to barely audible, you can add some buzz and hum that adds more texture to the already analog-saturated tone.
What's more is that this synth also comes with 5 built-in effects:
Chorus
Delay
Distortion
Flanger
Phaser
All these onboard features help you to craft a sound that's unique to you.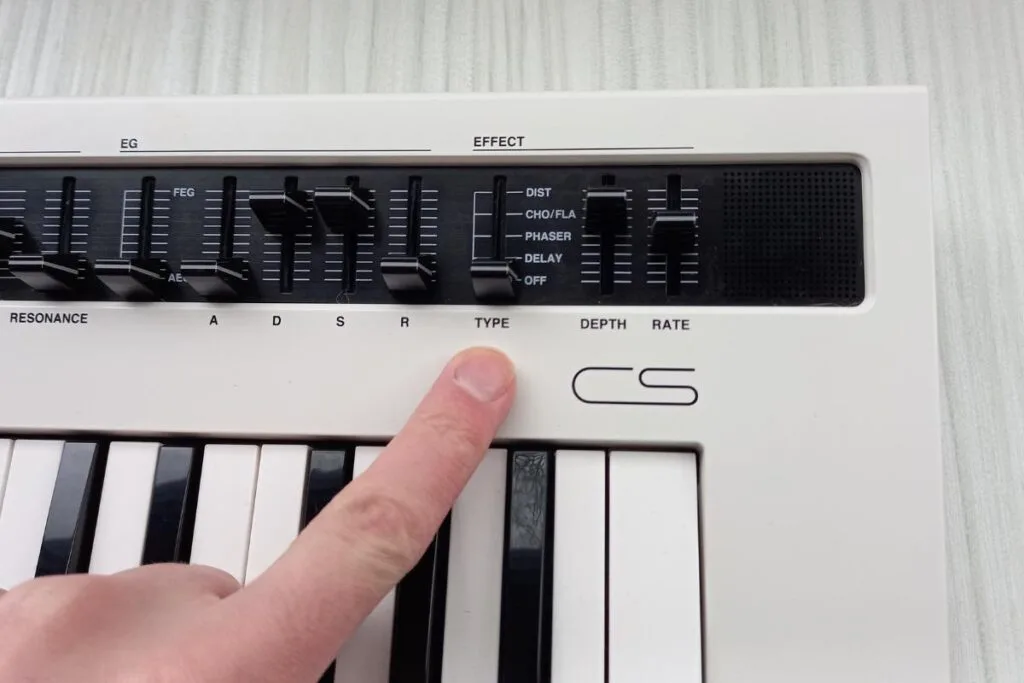 One feature that falls short for me, though, is the looper. It isn't tempo-synced or quantized, so it's quite difficult to get the timing right for a perfect loop.
I find that it's most useful for playing around with the sound settings. By programming a small riff, you can make live tweaks to it and help dial in a sound. It could also be useful if you're looping an ambient drone, or trying out a melody over a bassline, but that's about it.
Output options
The Reface CS can output to both mono or stereo, which is great for recording bass or pads. I find that recording pads in stereo (with a little of the onboard chorus) really opens the synth up, making it sound huge.
It also has a set of built-in speakers, which are a decent quality. You'll probably be plugging this into a speaker system, but it's nice to have in a pinch if you feel like playing at home or in a room with friends.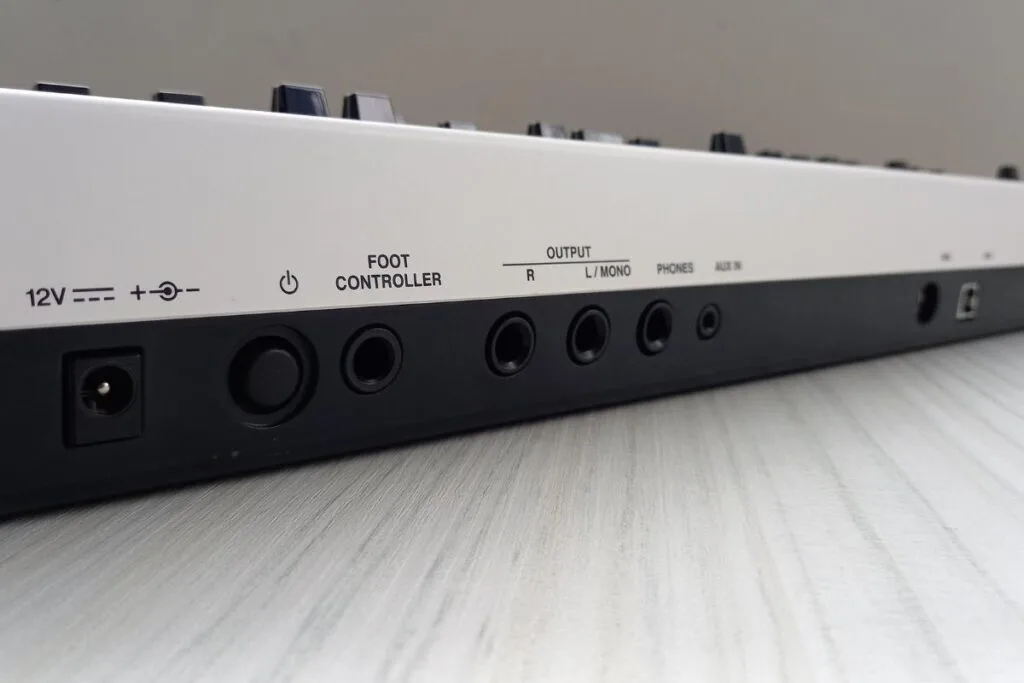 You can also connect this to your DAW and use it as a MIDI keyboard. Not only is this handy if you want to programme some virtual instruments, but it also means that you can record the MIDI notes when you record your synth. This is really useful if, like me, you forget how to play what you've recorded!
Finally, the Reface CS can be powered by 6 AA batteries, if you want to make music on the go or take it to a practice room. It's a good feature, but it's not exactly a pocket sized synth. It's a little bulky, so I figure wherever you'll be taking this, you'll probably have a plug socket nearby anyway!
How much does the Yamaha Reface CS cost?
The Yamaha Reface CS retails for around $400, which makes it a very competitive synth within its beginner-friendly price bracket.
There's been a bit of a supply issue with the Reface series over the last few years, thanks to a combination of chip shortages and supply-chain problems, so some people have found them tricky to get hold of. This has also led to some inflated second-hand prices, though these appear to be coming back down as it's starting to hit store shelves again.
If you're looking to get a hold of your own Reface CS, then I'd recommend picking it up sooner rather than later. I can see this synth going the way of its inspiration, the CS-5: initially affordable but now a sought after vintage piece once out of production.
Is the Yamaha Reface CS good quality?
One of the things I care most about when it comes to music equipment is quality. Does everything work as it should? Does it feel sturdy? And, most importantly, is it built to last?
I can honestly say that the Yamaha Reface CS ticks all of these boxes in this review.
The keys and sliders are very responsive and are easy to use. I'm able to use them, sometimes vigorously, without worrying about them breaking.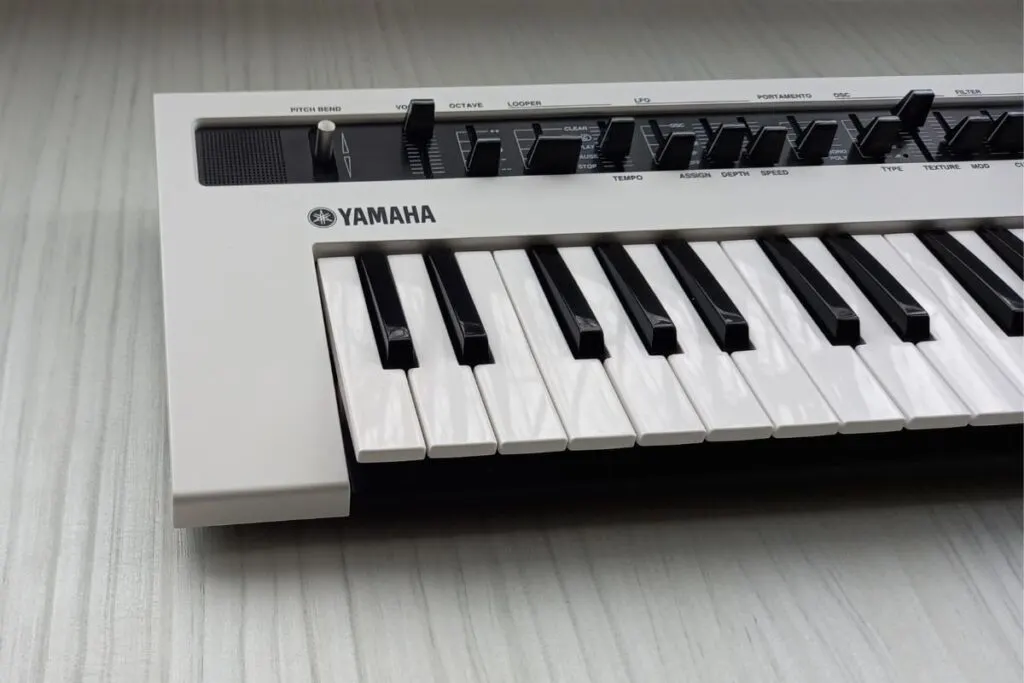 The synth itself has a solid plastic body. While it'd be better if it was metal, the thick plastic is very durable, so you don't have to worry too much about the odd knock or bump.
All the jacks are sturdy, too. Sometimes with the more affordable synths, you find that the jacks can wobble around and become unreliable, but this isn't the case for the Reface CS.
Considering its affordable price and basic design, Yamaha's given us a robust, durable, and well-crafted synth.
How does the Yamaha Reface CS sound?
At the end of the day, the most important thing about a synthesizer is how it sounds, and I really like the sound of my Yamaha Reface CS.
Its virtual-analog circuit has plenty of warmth and grit that will fool even the most scrutinizing synth-enthusiast. Likewise, the 18db resonant filter has plenty of character and depth to dial in some classic synth tones.
It can easily handle brassy pads, powerful leads, atmospheric drones, and even get into TB-303 territory (think squishy acid-bass lines).
Here's a few sound clips that I've recorded that I think best demonstrate its strengths. I recorded everything using only the onboard settings and effects.
Firstly, some big saw-tooth pads:
Next, here's a square wave sub-bass:
I made a quick tweak to the bass patch to create a 303 style "acid" bass:
Here's a patch using the FM setting to create some atmospheric, glass sounds:
Lastly, here's a boomy "Blade Runner" style bass pad:
To be honest, it'd probably be easier to tell you what the Reface CS can't do.
If I had to pick a fault, it's that the saw-tooth lacks a little bit of the bottom end energy that you'd get from a more expensive synth (namely a Moog), and starts to become too loose towards the very bottom of the octave.
Likewise, the "Ring Modulation" and "OSC Sync" oscillator modes are a bit too niche for my liking. They're great for some fun sound design, but there's a limited amount of range before they start to sound too weird.
I mainly bought this synth because I'm a big Black Moth Super Rainbow fan. If you're familiar with the band (that uses the Yamaha CS-5 in a lot of its older records), you can easily get all these sounds from this little synth alone.
I'd recommend this as a great beginner synth or studio staple due to the sheer variety of sound that it offers.
Onboard effects
The onboard effects are a welcome bonus on this synth, which gives it a lot more versatility.
Adding some of the luscious sounding chorus or digital delay to your patches gives the Reface CS a great sense of atmosphere, especially when outputting in stereo mode.
It also comes with a phaser and flanger effect (the latter being doubled up with the "chorus" function), so you can quickly get into some fun out-of-this-world 80's weirdness!
The distortion, while it can sound a little thin on lower settings, can really beef up your sound (especially if you drop the filter a little!). That being said, I'll often run mine through my Boss SD-1 instead, to give it a little bit more body.
I'd have liked to see a reverb effect on here (and a noise generator), but what Yamaha did give us works well and I'm glad we got something!
Final thoughts on the Yamaha Reface CS
The Yamaha Reface CS is a great sounding and easy to use synthesizer that feels a lot better than it should be for its price range.
It's versatile as it's both mono and poly-synth (and not the middle-ground "paraphony" – this is full eight-voice polyphony). Not to mention all the different oscillator options, LFO settings, and onboard effects (of which I'll give a special shout out to the chorus). You can check out a full list of the features on the Yamaha product page.
So, if you're just getting started with synthesis, and want a reliable hardware synth with an analog sound (without the analog price tag), then I can't recommend the Yamaha Reface CS to you enough.
To finish on an anecdote, I went to a synthesizer convention earlier in the year and got to play my dream synthesizer: the Moog Grandmother. After a while of poking, prodding, and knob turning I realized that I just couldn't get it to sound how I wanted it to. Why? Because I was trying to recreate the sound of my Yamaha CS Reface. That's what I wanted to hear.
Now, I'm not saying that the Yamaha CS Reface is better than the Moog Grandmother, or even that I'm comparing them. My point is that this is a great entry-level synthesizer that has a wide range of sounds and tones that can hold its own against the best of them.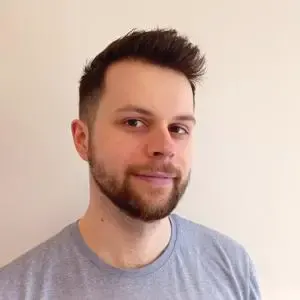 Conor is a music producer, multi-instrumentalist, and all-round enthusiast from the UK with over 15 years of experience. He's the founder and sole-content creator for the roundtable audio blog and YouTube channel.