The Arturia MiniLab MKII is an entry level MIDI controller that's packed full of features and functions. It's a great MIDI keyboard for any beginner looking to get started with music production.
I've owned my Minilab MKII for over 2 years, and use it daily. I've written this review to share my opinions on my experiences using it, its different features, and whether it's worth your money in 2022.
Affiliate disclaimer:

This page contains affiliate links for products that I've tried and tested. As an Amazon Associate I earn from qualifying purchases at no additional cost to you.

Learn more here

.
Overall rating
The Arturia MiniLab MKII is a great MIDI keyboard for beginner music producers. The keys are comfortable to play, it's very well built, compact, and comes in at under $100. The variety of controls (and the amount of knobs!) makes it a great physical extension of any computer setup.
The only drawback is the pads. They're not sensitive enough for nuanced finger drumming, and really need some force to get higher velocity sounds. Though, this is common for MIDI keyboards at this price range.
Still, this is a great choice for beginners looking for an affordable MIDI keyboard that will give them full control of their Digital Audio Workstation (DAW).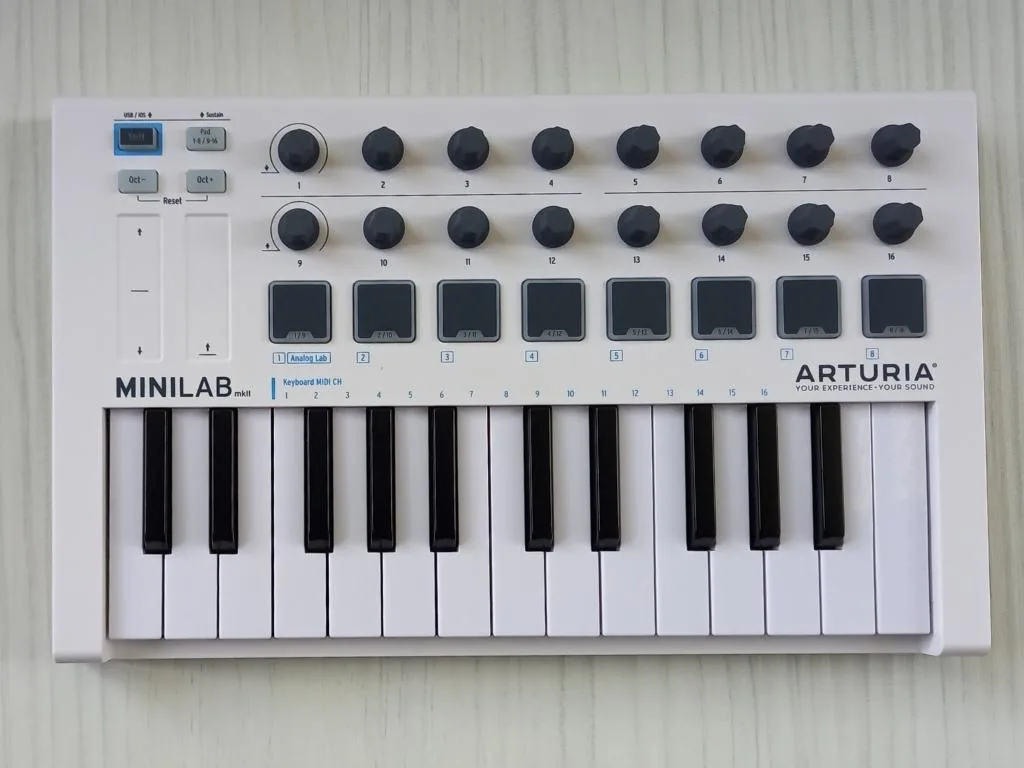 Pros:
– Beginner friendly price
– Comfortable feeling keys
– Compact size
– Twice as many knobs than other similarly priced MIDI keyboards

Cons:
– The pads are difficult to use
– The touch strips can be hit or miss
Price
My biggest concern when I started making music was how expensive it can be, especially when you're just getting started. Fortunately, the Arturia MiniLab MKII comes in at a very wallet friendly price, costing less than $100.
This price is only going to go down as Arturia begins releasing the newer model, the MiniLab 3.
It's also worth noting that it comes with some prepackaged software, though most of these are freely available to download without having the controller. Here's what comes included (and it's value):
Ableton Live Lite (Free)
Arturia Analog Lab Lite (Free)
UVI Model D (49,00€ / around $49)
Now, it's worth pointing out that most MIDI keyboards at this price point come bundled with similar software. So, in this respect, it's comparable to most other available products.
I actually didn't know that both Ableton Live Lite and Analog Lab Lite were free before I bought my MiniLab MKII, so just a heads up in case you think you're getting more for your money!
I would have preferred it if it came with a more advanced version of the Analog Lab – as a special perk for people buying an Arturia product – but, I use the Analog Lite a lot, and I'm glad it's free.
The UVI Model D, however, retails for 49,00€, which is around half the price of the controller itself. It's a good perk, as it's a very well made piano VST.
If you're specifically looking for a piano plugin, this might swing it for you.

Final verdict: While the Arturia MiniLab MKII similarly priced to most other entry level MIDI keyboards (under $100) I think it's better value for money because of it's numerous features and sturdy build quality. The additional UVI Model D plugin is also a great bonus for piano players.

It loses half a star, as it would have been nice if it came with a more advanced version of the Arturia Analog Lab software. Especially as the previous version, the MiniLab MKI, came with more.
Features
The thing that stands out the most to me about the MiniLab MKII is the amount of different controls it has. Keys for playing, knobs for twisting, and pads for hitting. It's got a lot going on considering its desktop-friendly size.
Keys
It has 25 velocity sensitive, slim-designed keys, which gives you two octaves of playing room (as well as an octave up/down button to change the octave range of the keys). I've found that's enough for me to play in basslines, melodies, or chords – or even a little bit of two-handed playing.
Piano players, however, might find the 25-key limitation a bit restricting. But, this shouldn't be a problem for most music producers.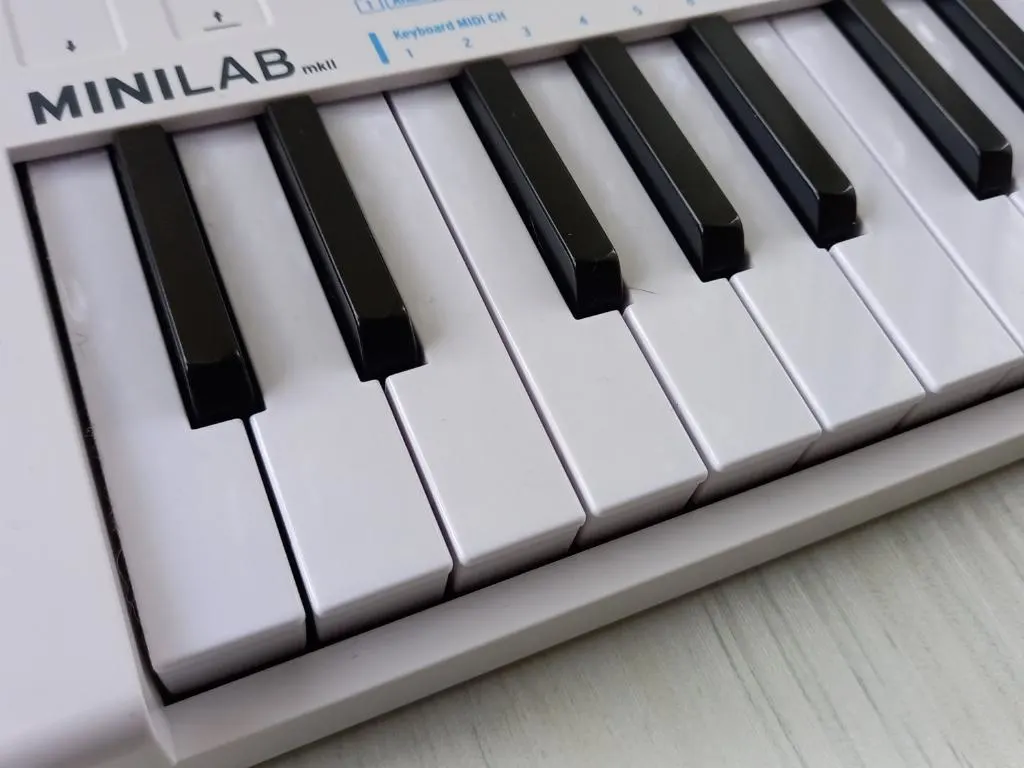 While the keys are slim, they're not too small or close together. There's actually a fair amount of space on the key surface, so it doesn't feel cramped despite its small profile. I find the keys on my MiniLab MKII to be more comfortable than other space-saving key designs out there (namely, on my Yamaha CS Reface).
The keys are also velocity sensitive, meaning that they detect how hard you press them, which gives you much more expression to your playing and recording. Velocity sensitive keys are common at this price point, but are a must have for any music producer, beginner or otherwise.
Knobs
The MiniLab MKII comes with 16 MIDI assignable knobs, which is at least double the amount that other MIDI controllers at a similar price have. This is where it really stands out from the competition.
These knobs can control different settings in your DAW. You can assign them to control the settings of an instrument, effects, tracks… anything! It gives you full, physical control of your music making software, which makes it feel more natural and intuitive. You're not longer just clicking a mouse to make music.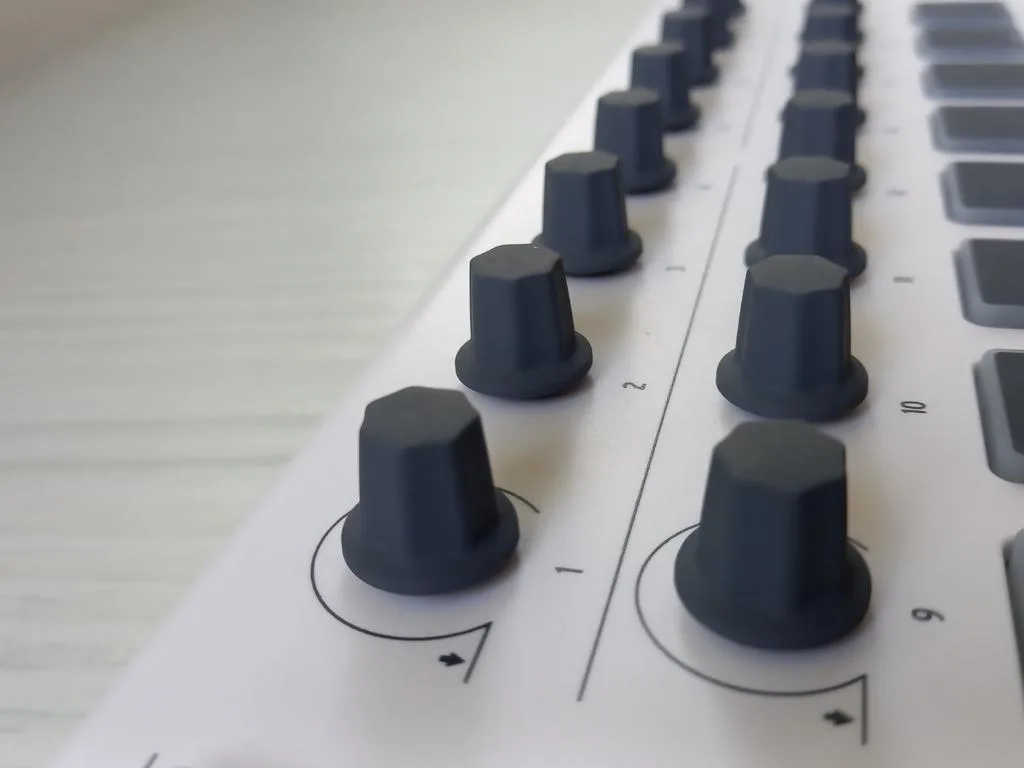 Out of the box, these knobs are fully mapped to the "Analog Lab Intro" software that comes included. So, you don't even have to assign the controls yourself – just plug and play!
Whatever I'm doing, whether it's playing, recording, mixing, or mastering – I have these knobs mapped to something.
I find that using these knobs makes me spend less time crawling through settings with my mouse, and I'm instead able to make on-the-fly tweaks to my sound. Whatever I'm doing, it feels quicker, easier, and more fun.
Some people may find 16 knobs a bit excessive, but I think most people will be able to find a use for all of them.
Pads
This MIDI keyboard comes with 8 velocity and pressure sensitive rubber pads. There are 2 banks, meaning that you can switch between two settings for each pad, giving you (kind of) 16 pads.
They're backlit, and can be set to different colors using the "MIDI Control Center" software (but more on that shortly). This is handy if you want to color coordinate your pads for different functions, or even if you just want them to look cool.
The only complaint I have about the MiniLab MKII is that the pads aren't that great. And it's an opinion that a lot of other users have. I found that I need to hit the pads hard to register a full velocity sound, otherwise they just sound too soft.
So, I just use them for triggering one off events, and use the keys for playing drum samples. It's a shame, because I'd much prefer to use the pads.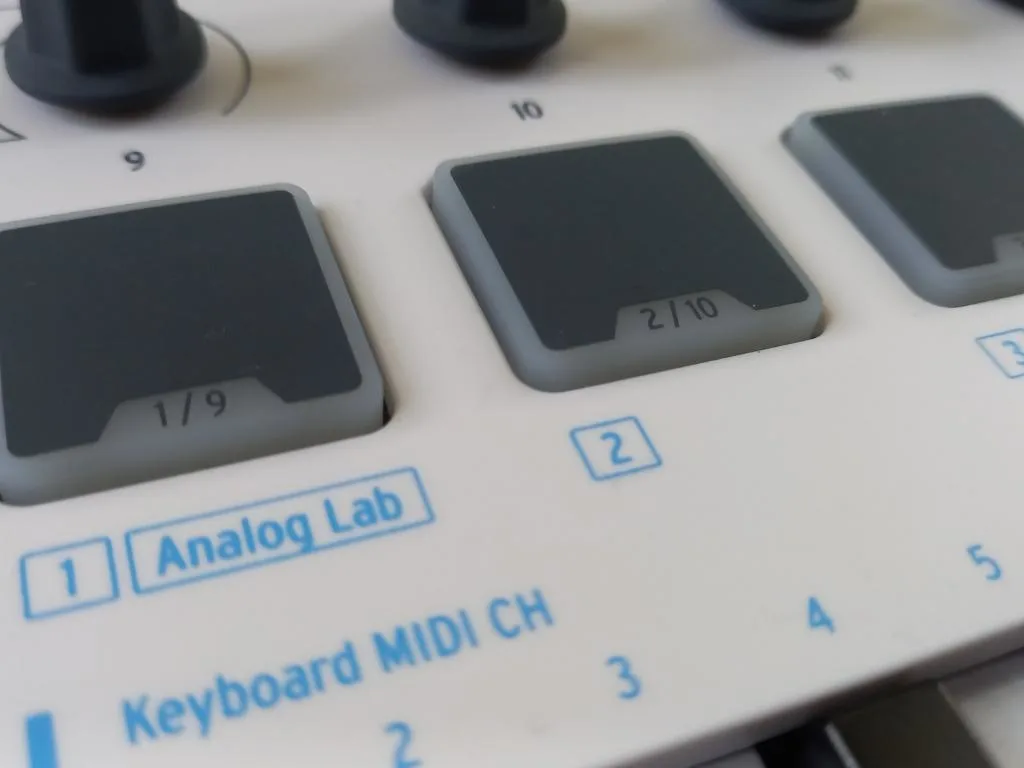 There are some modifications you can do to make the pads more responsive, but I haven't made them. It involves tinkering with the insides of the keyboard, and I just don't want to risk it. Using the keys is fine for me, and the pads work for what I use them for.
These pads are also used to switch between different keyboard profiles. By holding the "shift" button on the keyboard, you can switch between 8 different setups, depending on what you're using your keyboard for. You could have one set up for recording, one for editing, one for mixing… the choice is yours!
So, if you're looking for a MIDI keyboard with great pads, this isn't the one for you. But, sub-par pads are a very common complaint on all the MIDI keyboards in this price range, even the Akai MPK whose manufacturer is known for the MPC series of samplers, famed for their pads.
Other controls
The MiniLab MKII also includes two conductive strips for controlling pitch and modulation. These strips are touch sensitive. It's an interesting choice from Arturia, as most other MIDI keyboards have physical wheels.
I don't dislike them, but I would prefer a physical wheel. As they're conductive, they can be triggered by a stray hair or dust, which can make your recording sound crazy!
That being said, as long as you keep them clean, they're perfectly usable for their intended purpose.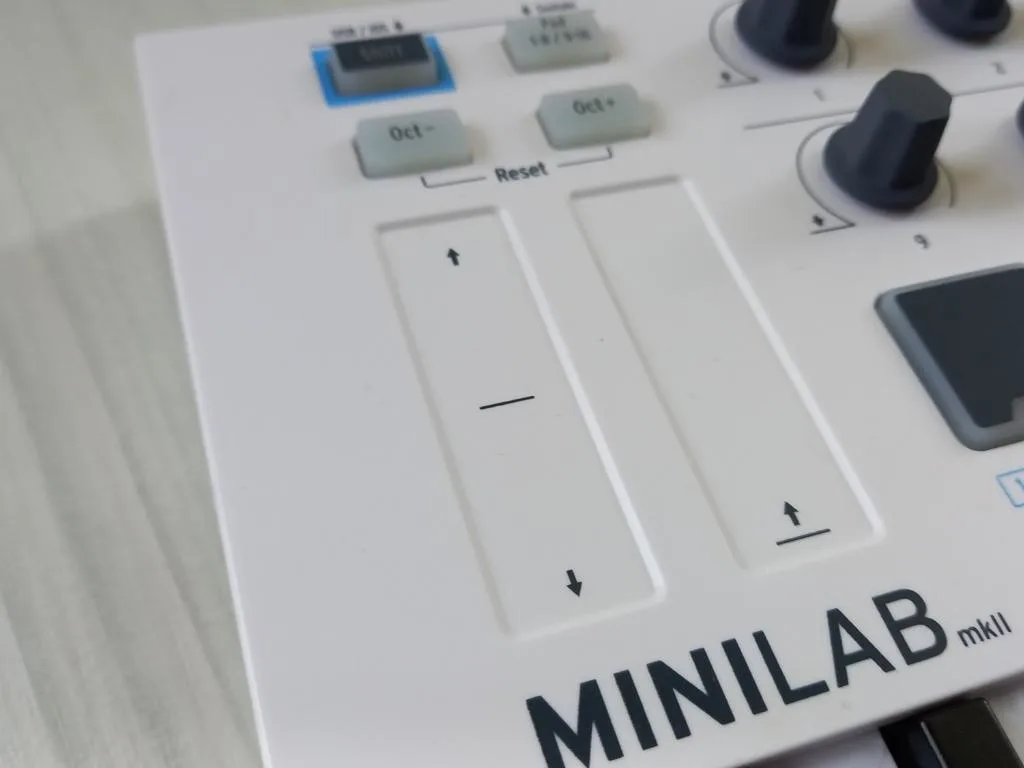 Above the strips are 4 buttons: one "shift" button to activate alternate key functions, one for toggling between the 2 banks of pads, and two for controlling the octave range of the keys (up or down).
There's not much to say about these buttons. They do exactly what they're meant to do. The octave buttons also have a handy function where they "reset" to the default octave if pressed together.
Connectivity
The MiniLab MKII is powered by a USB cable, which means that there's no additional power adapter required. It just plugs straight into your PC or laptop (though, I found that the USB cable included is a bit short, so I replaced it with a 5ft one).
Once I plugged it into my PC, I was able to use it straight away. This is because it's "MIDI compliant", meaning that there aren't any additional drivers to install. Not only is this convenient, but it also means that it works on my Chromebook, too (although the packaged software won't).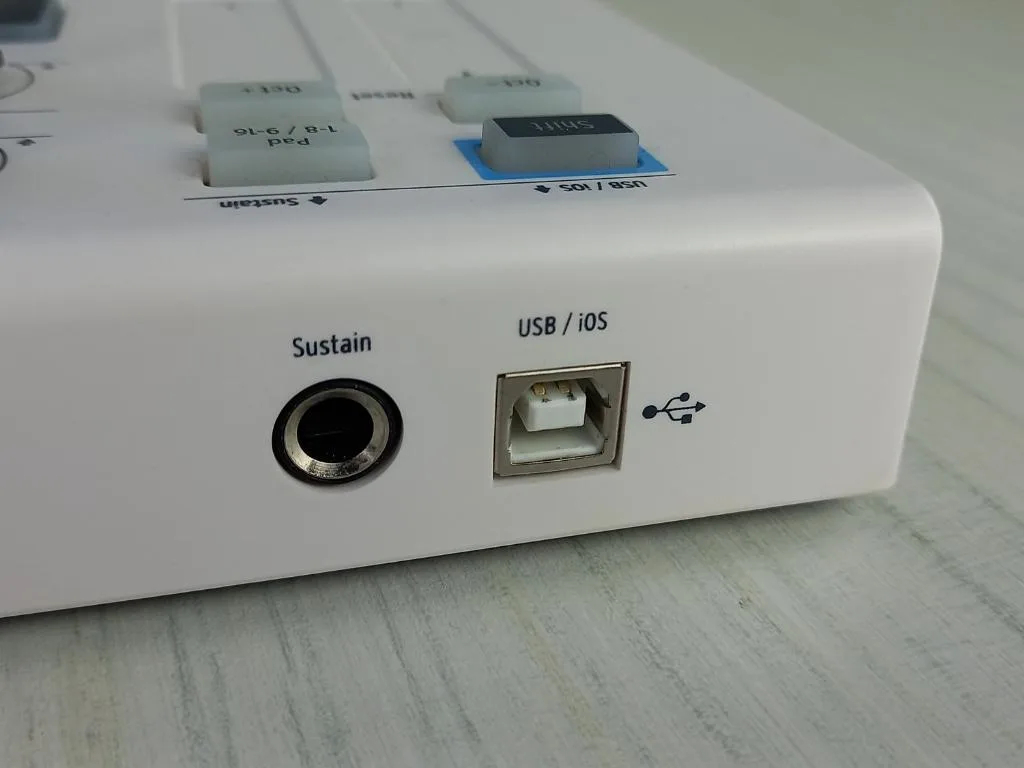 That being said, the MiniLab MKII only has a USB port: it doesn't come with any traditional 5 pin MIDI ports. So, it can't be directly connected to any external gear like synthesizers.
This was a bit disappointing, but I found a way around this by using an audio interface with MIDI ports. Using a DAW, I can send instructions from the MIDI keyboard to the audio interface, which then sends them onto my hardware synthesizers.
The lack of MIDI ports is common at this price point. But, it looks like this has been included on the newer Arturia MiniLab 3 model.
Finally, it's worth mentioning that this MIDI keyboard comes with a port for a sustain pedal. Personally, I've never needed to use it. But, it's a useful option if you're looking to emulate more traditional instruments.
Arturia MIDI Control Center software
The final feature that I want to cover is the "Arturia MIDI Control Center". This is a computer app that used to update and edit the settings of the MiniLab MKII.
In the software, you can change how different buttons respond to being pressed, which note they're assigned, the color of lighting for the pads. It gives you a lot of customization options for your MIDI keyboard, which means that you can fully personalize your MIDI keyboard to you.

Final verdict: The MiniLab MKII has a lot of features that go above other offerings in the market. The keys are some of the best mini-style keys that I've played, and it doesn't feel too cramped together despite it's small size. It's got plenty of controls that make working with my DAW feel easy and intuitive.

I'm taking away a full star because of the pads. They're just not usable for their intended purpose, which is a big drawback. I hope that they've fixed this on the MiniLab 3.
Quality
One of the best things about this MIDI keyboard is how sturdy it is. It's made of a very thick plastic, with a metal base. The plastic doesn't have any give or flex, meaning that it's not going to break easily. It even has some aesthetic "wood-panel" effect sides.
I've put this MIDI keyboard through its paces over the years: banged away on the keys and pads, shoved it into draws, and even dropped it once or twice. It still holds up.
Coupled with its small profile, you could put this in a bag with a laptop and make music anywhere.
The controls all feel robust, too. The keys feel sturdy while still being easy to use. The knobs have some resistance, while still being easy to turn. The strips show no sign of giving out, even after two years of use.
As I've mentioned, it does have some shortcomings, namely the quality of the pads. But, for a rough-and-ready controller that can withstand the paces a beginner will put it through, I can't really fault it.

Final verdict: The MiniLab MKII has an excellent build quality, and is a great choice for any beginner music producer or musician on-the-go.

I've taken away half a star for the pads. I know I've already rated the pads in the previous section, but they're just not of good quality.
Final thoughts
So, is the Arturia MiniLab MKII the controller for you?
If you're a beginner music producer that's looking for a quality controller with plenty of features that will last for years to come, all with a budget friendly price, then I'd say absolutely yes.
If you're looking for a bit more control over physical instruments, like hardware synthesizers, then I'd say maybe. Only if you're also looking to buy an audio interface with MIDI out connections.
If you're looking for a MIDI keyboard with good pads for finger drumming, then I'd say no. The keys are perfectly usable for creating beats, but if you're dead-set on wanting pads, I'd say look elsewhere.
And that's it! The MiniLab 3 has now come out (October 2022), and I'll do a review and comparison when I'm able to get my hands on one.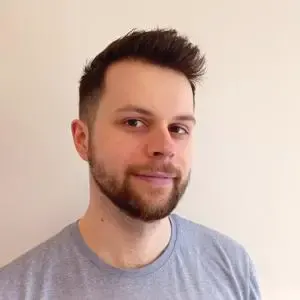 Conor is a music producer, multi-instrumentalist, and all-round enthusiast from the UK with over 15 years of experience. He's the founder and sole-content creator for the roundtable audio blog and YouTube channel.