Overdrive, distortion, and fuzz are essential effects that have shaped the sound of the electric guitar since the 1950s. But, during my 15 years of playing, I've found that not many people fully understand the differences between the three.
During this time, I've used my fair share of all three effects. So, I've condensed everything I've learned about them to help you learn exactly what the differences are between overdrive, distortion, and fuzz.
For each effect, I'll share my own original audio recordings, a brief history, my personal opinions, as well as examples of them in popular songs.
Affiliate disclaimer:

This page contains affiliate links for products that I've tried and tested. As an Amazon Associate I earn from qualifying purchases at no additional cost to you.

Learn more here

.
They're just different types of clipping
When it comes to overdrive, distortion, and fuzz we're really just talking about the different ways that a guitar signal is clipped.
Put simply: clipping happens when a signal is stronger than the maximum level of whatever it's going into.
It gets its name from what happens to the audio signal. The signal gets squashed down to meet the ceiling of the receiving device. This "clips" the peaks off the signal, and changes the shape of the waveform. Another way of saying this is that the waveform has become "distorted", which is also why we also call clipping "distortion".
There's two types of clipping worth knowing about: soft-clipping and hard-clipping.
Soft-clipping squashes the peak down but keeps its shape (mostly), and creates a warm sound similar to a vintage amplifier.
Hard-clipping is more extreme and flattens the peak entirely, creating a "squared-off" waveform. This gives the signal a much more aggressive and gritty sound.
The difference in sound is to do with how the harmonics work – but, that's far too science-heavy for this article! Instead, I'm just going to stick to the basics. You can always check out this resource that explains more of the science behind clipping.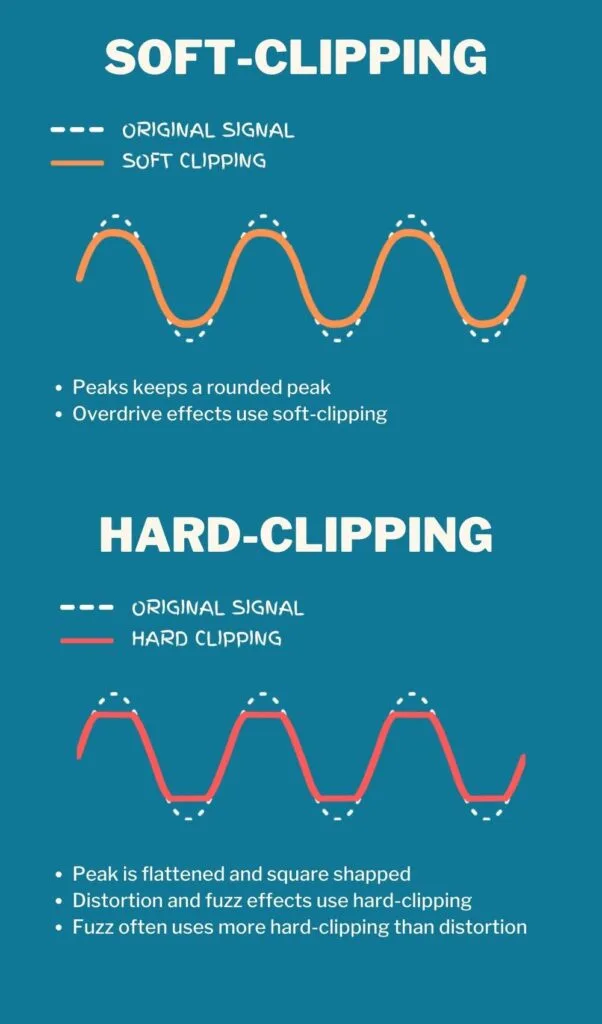 Overdrive vs distortion vs fuzz
So, now we get into the differences between overdrive, distortion, and fuzz.
If you take nothing else away from this, just remember: overdrive, distortion, and fuzz are just different amounts (and types) of clipping applied to a signal. That's it.
Overdrive is often a lesser amount of clipping, distortion is a heavier amount, and fuzz is the most extreme amount of clipping.
It's worth noting that the lines between them can get a bit blurred. Overdrive can overlap with distortion, and distortion with fuzz. So, I'll cover the general characteristics of each type.

Example Throughout the article, I'll be using sound clips to show what each effect sounds like.

For reference, the following clip is the clean sound of my amp, with no added effects. Come back and compare the effects to this clip to see what they add.
What is overdrive?
Overdrive is the effect with the least amount of clipping. It'll give your guitar a warm, analog sound which is great for vintage rock, blues, and metal guitar tones.
A quick bit of history
Overdrive gets its name from how guitarists used to get this tone using a guitar amp.
Back in the day, guitarists didn't have access to all the different types of guitar amps that we have today. Instead, they had to make do with much simpler technology.
Your standard amplifier from yesteryear was a tube powered, one channel amp that was designed for producing clean tones. This was great for the popular genres of the time, like jazz, blues, and country.
Now, there had been a few early "distortion" effects since used the 1940's, usually by damaging the amp in some way. But, things really started to change around the 1950's with the birth of rock and roll. This exciting new music had an exciting new sound to match: overdrive.
Guitarists discovered that by turning up the gain (or "drive") on the amplifier's preamp, you could get a different tone. Turning the gain up higher, and "over-driving" the amp, caused the clean signal to soft-clip and create a fuller, warmer, and slightly buzzy tone.
This sound is what we now call "overdrive".
Modern day overdrive
With advancements in technology, guitarists no longer have to crank up their amps to get an overdriven guitar tone.
Most modern amps have specific channels for creating an overdriven tone. Not only that, but effects pedals, like the world famous Boss SD-1, can create the sound of overdrive within the pedal itself without needing to "drive" your amp super hard.
A lot of these pedals use "soft-clipping" circuits to faithfully recreate the tone of an "overdriven" vintage amp.
So, when we talk about "overdrive" nowadays, we're talking about a specific sound rather than the process of "over-driving" an amp.
What does it sound like?
I'd describe overdrive as a mild hot-sauce: it has a little bit of a kick, with plenty of vintage flavor.
Overdrive will make your guitar sound warmer, crunchier, and grittier. But, compared to distortion and fuzz: it's much subtler. It keeps a lot of the characteristics of your guitar's clean tone, but adds some dirt and tightness to it.
In my experience, this makes overdrive a lot easier to work with than distortion or fuzz. I find that my guitar still has plenty of articulation and clarity, even on higher overdrive settings. It sounds much more organic and natural compared to the heavier forms of distortion.

Example: Check it out for yourself. Here's a sound clip of me using my Boss SD-1 overdrive pedal on my amp. Remember, you can compare this to the clean sound of my amp above.
As you can hear, overdrive adds some punch while still keeping true to the original signal. It bolsters the tone without overwhelming it.
I think overdrive is often overlooked by guitarists in favor of the more dramatic sounds of distortion and fuzz. As such, I don't think it gets a fair recognition for just how integral it's been to the sound of modern music.
I'd argue that overdrive is the sound of classic rock, and I think many others would agree. Just check out rock classics like "Smoke On The Water" by Deep Purple, "Highway To Hell" by AC/DC, or "Won't Get Fooled Again" by The Who. It's the overdriven guitars that make the songs iconic.
And it's not just classic rock. Early metal also owes a lot to overdrive. Tony Iomi really dials up the effect in Black Sabbath's "Sabbath Bloody Sabbath". It adds a dark and gritty sound to his guitar, without ever overpowering it. This is especially clear on the solo (from 2:25).
The takeaway
If you're looking to add a little bit of vintage flavor to your guitar tone, then overdrive is the way to go.
If you're looking for your first overdrive pedal, I always recommend the Boss SD-1 overdrive pedal. It has an incredible tone at a very beginner-friendly price. You can check it out here on Amazon.
What is distortion?
Distortion is the umbrella term for any sound that isn't "clean" on a guitar. Technically, overdrive and fuzz are both types of distortion, but "distortion" has become known as an effect in its own right over the years.
Distortion (as an effect) sits between overdrive and fuzz in terms of intensity. It's a versatile effect that'll take your guitar anywhere from hard-rock, to shred-metal, to grunge, and back again!
A quick bit of history
The first use of distortion, as an intentional guitar effect, is most often accredited to the 1951 song "Rocket 88" by Ike Turner & The Kings of Rhythm.
The legend goes that the lead guitarist, Willie Kizart, damaged his amp before recording. This damaged amp gave the guitar a brassy, buzzy tone that we now associate with distortion.
Then, as we know, people started playing around with overdrive for a few years by turning up the preamps. But, this wasn't the only way that people were distorting their sound.
In 1958, a guitarist by the name of Link Wray distorted the sound of his amp by poking holes into the speaker which can be heard on the track "Rumble".
Distortion really hit the mainstream when The Kinks released their 1964 hit "You Really Got Me". Guitarist Dave Davies apparently followed the lead of Link Wray and slashed his amps speaker with a razor, creating the dirty, iconic guitar.
From here on out, distortion became the go-to tone for rock guitar players. Manufacturers began designing amplifiers with distortion in mind.
By the 1980s, distortion had developed into the unruly, aggressive sound we know it to be today. Bands like Metallica, Guns N' Roses, and Nirvana shaped entire genres with the sound of their gritty, growling guitars.
Since then, distortions popularity has only grown, and it continues to be essential to the sound of modern guitar playing.
What does it sound like?
If I were to describe distortion as a hot-sauce: it's going to burn. Sure, you might not be able to fully taste your food, but that's kind of the point.
Distortion isn't mild-mannered like overdrive. It grabs onto your guitar tone and covers it in spiky edges and dirt, giving it plenty of harsh grit and force that's perfect for anything rock (or rock-related).
It's often described as having a scooped sound. This means that the middle frequencies (or "mids") are reduced, which makes the bass and treble more pronounced.
I find that distortion is perfect for adding texture to guitar parts. Whether it's a growling rhythm or a shrieking lead, distortion adds plenty of sustain and harmonics that will help your guitar part to stand out.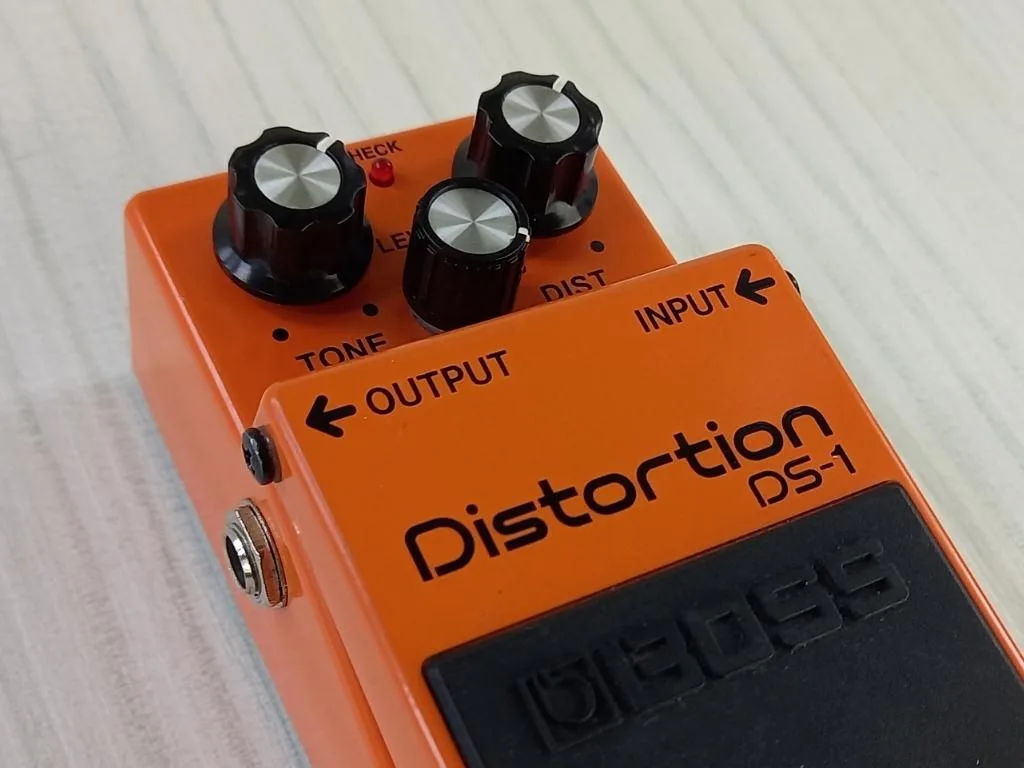 For the most part, distortion effects use hard-clipping to get an aggressive, in-your-face sound. This means that instead of squishing the peaks (like overdrive), it flattens them completely, "squaring off" the tip of the wave. As a result, it often sounds much less organic than overdrive.
Still, not everyone is looking for subtlety. Sometimes you just want a guttural guitar tone that has plenty of punch. Distortion is great for guitarists looking for a quick way to dirty up their sound.

Example: Here's a recording of my Boss DS-1 distortion pedal going into the clean channel of my amp.
As you can hear, it's much beefier compared to overdrive. It adds a certain "growl" that's essential for rock and metal music.
In terms of examples, I'd recommend checking out "Dr. Feelgood" by Motley Crue. It's the perfect example of what distortion adds to a song. For the first 30 seconds, the rhythm guitar is just playing an open string. Pretty unremarkable.
But, the distortion adds attitude. It makes the guitar sound imposing. Skip forward to 3:10 and you can hear how distortion adds rich harmonics to the screaming lead solo.
The takeaway
If you want your guitar to kick some butt, then crank up the distortion and let it rock.
If you're looking to get started with distortion, I recommend picking up the Boss DS-1 pedal. It's been used on countless rock and grunge anthems. It'll add plenty of beef to whatever amp you're using. You can pick one up here on Amazon.
What is fuzz?
Fuzz has the most extreme clipping out of all the effects listed here. It flattens your guitar signal until it almost looks like a square wave.
This gives you a very woody and dry sounding distortion that's packed full of rich harmonics.
A bit of history
The story of fuzz is the same as the other types of distortion given here: someone, somewhere, uses something broken.
In this case, the "someone" is audio engineer Glenn Snoddy, the "something" is a mixing desk, and the "somewhere" is a recording session for Marty Robbins' 1961 single "Don't Worry".
About halfway through this track (at 1:25) you can hear what is probably one of the clearest (and strangest) examples of fuzz on record.
According to the story, a transformer had blown in the mixing desk when it came to recording the bass solo. Instead of fixing it, Glenn Snoddy thought that it was an interesting sound and kept it.
But, the story doesn't stop there. Glenn liked the sound so much that he sought to recreate it and worked with Gibson to invent the first fuzz effects pedal: the Maestro FZ-1.
Fuzz (and the Maestro FZ-1) really hit the mainstream in The Rolling Stone's 1965 hit "(I Can't Get No) Satisfaction". That opening riff took the strange, buzzy, sound that is fuzz to the forefront of rock music.
From here, it was adopted by countless bands. But one person took fuzz and ran with it: Jimi Hendrix.
Jimi Hendrix showed the world what fuzz was really capable of. Unruly screaming leads, unpredictable hissing harmonics, all squeezed down into a tight, brassy tone. It opened up a whole new world for fuzz and guitarists alike, featuring heavily in the psychedelic songs of the 1970s.
While distortion came to dominate the 1980s, fuzz was re-crowned king in the 1990s. Bands like Smashing Pumpkins, Sonic Youth, and Pearl Jam all leaned on fuzz to capture the aggressive, untamable sound of teenage angst.
Now, fuzz is mostly used by anyone looking to add a Lo-Fi grime to their songs. Just take a look at Jack White or The Black Keys. Sub-genres of music like doom-rock and metal also lean heavily on fuzz to create an imposing wall of sound.
What does it sound like?
Fuzz is definitely the strangest of the three distortion types listed here. If it was a hot-sauce, fuzz would be a slow burn. You'd think "that wasn't hot at all", so you have some more. Next thing you know, your tongue is on fire.
Fuzz has probably the widest range of sound compared to overdrive and distortion. If used sparingly, it can give your guitar a subtle buzz to give you a slightly brassy edge. When it's cranked up, it'll swallow up your guitar's tone, creating a dull sound with plenty of force.
Like distortion, fuzz tends to be scooped (though it varies from pedal to pedal!) meaning that there's more high end and low end, with less middle frequencies. I've found that it tends to be less scooped than distortion, however.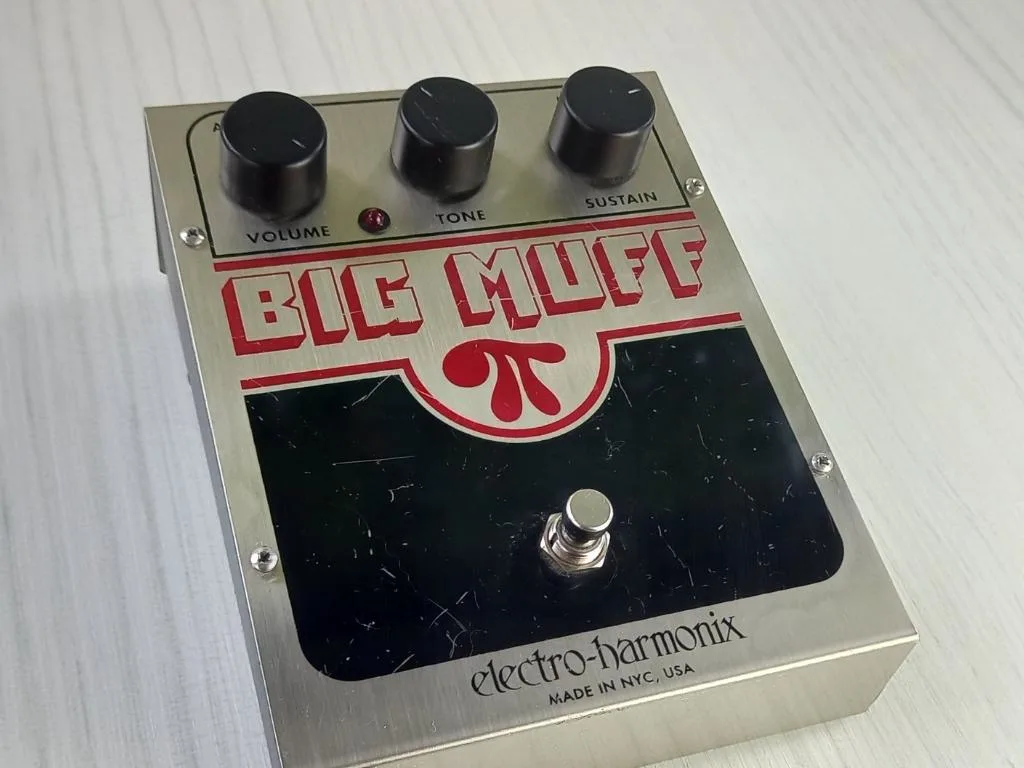 Personally, I mostly use fuzz to add texture to rhythm parts. It's a bit harder to work with than overdrive and distortion, but it adds a sense of fullness that the other two just can't compete with.
I think the best way to describe fuzz is "dry" and "scratchy". You lose a lot of the high-end frequencies from your tone, which is what makes guitars sound "bright". It feels like it's sucking the life from your guitar, but in exchange for plenty of sustain and grit.
The trick, like with any effect, is learning how to dial in just the right amount for you.
Example: Finally, here's a recording of my fuzz pedal, the Big Muff Pi, going into the clean channel of my amp.
As you can hear, it sounds closer to distortion than overdrive. This is because they both use hard-clipping. Compared to distortion though, it's much drier and duller, but has more depth and fullness to the sound.
When I think of fuzz, my mind jumps straight to the wooly, buzzy tones of Jimi Hendrix. Check out the song "Are You Experienced". In the solo from 1:50 you can hear the fuzz-laden guitar fighting back against Jimi's playing. But, you'll notice how it still has plenty of articulation.
If you want to hear fuzz dialled up to 10, then I recommend checking out the song "Desert Cruiser" by Truckfighters (or basically any doom rock/metal song ever!).
The takeaway
If Jimi Hendrix you wish to be, then fuzz is the effect for thee.
If you're looking for your first fuzz pedal, I recommend the Big Muff Pi. This chunky pedal is a legend in the world of rock, and is basically credited with creating the sound of the Smashing Pumpkins (which is exactly why I bought one). You can check it out here on Amazon.
Summary
So, there's my thoughts on overdrive vs distortion vs fuzz. It can feel overwhelming, especially if you're just getting started with guitar, but it's a lot simpler than it seems. Remember:
Overdrive is a subtle effect that will give you the vintage tones of classic rock
Distortion is a stronger effect that will beef your guitar tone up, taking it straight to the 80's era of rock and hair-metal.
Fuzz is the strongest effect, and can take your guitar tone anywhere from a light buzz, to a flat sounding wall of sound
The best way to learn the difference is to head down to your local guitar store and ask to try out the different types of pedals! Any worthwhile store would be happy to let you try them out.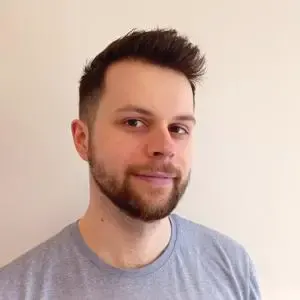 Conor is a music producer, multi-instrumentalist, and all-round enthusiast from the UK with over 15 years of experience. He's the founder and sole-content creator for the roundtable audio blog and YouTube channel.