Ableton Live is the most popular DAW for musicians and comes in 3 versions: Intro, Standard, or Suite. If you're new to Ableton Live, you may be wondering which version to buy.
I've been using Ableton Live for just over a year and have read through the features of all the versions to bring you this guide to help you decide which version is right for you.
If you are new to music production or the Ableton Live DAW, start with the free trial or Ableton Intro. If you are familiar with Ableton Live and will use it as your main DAW, buy Ableton Live Standard. If you want to use Ableton Live for professional studio use or live music performances, buy Ableton Live Suite.
That's a very general answer and, as ever, there's much more to consider as to which version will be right for you, such as how you'll be using it, your price range, and what features you need.
I've covered all that and more below!
Which version of Ableton Live is right for you?
The Ableton Live DAW come in 3 versions: Intro, Standard, and Suite. At a glance, intro is the most basic version, standard is the full version, and suite has some added extras.
I've created the below table to summarise some of the key features of each version of Ableton Live:
| | | | | |
| --- | --- | --- | --- | --- |
| | Lite | Intro | Standard | Suite |
| Price | Free | $99 / £69 | $499 / £319 | $799 / £539 |
| Audio and MIDI Tracks | 8 | 16 | Unlimited | Unlimited |
| Scenes | 8 | 16 | Unlimited | Unlimited |
| Send and Return Tracks | 2 | 2 | 12 | 12 |
| Sounds | 1500+ | 1500+ | 1800+ | 5000+ |
| Software Instruments | 4 | 4 | 6 | 17 |
| Audio Effects | 21 | 21 | 36 | 59 |
| MIDI Effects | 11 | 11 | 13 | 15 |
| Best For | Trying out Ableton | Use as a secondary DAW | Use as a main DAW | Studio use and live performances |
A table comparing features of the different versions of Ableton Live. Note: Ableton Live Lite is a lightweight version that is included for free with certain pieces of software and hardware but is not directly for sale from Ableton. I've not included it in this review, but have discussed it in the "related questions" section towards the end of this article.
The version of Ableton Live that you need all depends on what you're going to be using it for, so let's look at each version below and talk about their differences and what they're best suited for.
Ableton Live Intro ($99 / £69)
Ableton Live Intro is the cheapest and most basic version of the Ableton DAW. For $99 / £69, you get access to the DAW with a limited number of Ableton's plugins.
It's the accessibility to these effect and instrument plugins, as well as the included high quality drum and instrument samples, that makes Ableton Live Intro worth the money.
If you're looking for a good place to get started with making high quality drum beats and electronic music, I'd recommend Ableton Live Intro. It's a great place to learn the fundamentals and provides you with some great tools for a very reasonable price.
There are noticeable limitations though, such as a recording limit of 16 audio and MIDI, as well as being limited to 2 send and return tracks.
This is the version of Ableton Live that I currently use (as at 23/01/2021). While it is great to have access to plugins and effects such as Drum Rack, Simpler, Random MIDI, and Arpeggiator, as well as the DAW's intuitive set up, I always find myself needing more than the allotted 16 tracks.
It's definitely helped me learn Ableton and I've managed to get some great, albeit simple, tracks out of it.
Also, having access to the "Simpler" (which in my opinion is one of the best sampler plugins available) means that I can use Ableton to make a sample pattern, and export it into my main DAW.
Likewise, the intuitive Drum Rack, with its many high-quality drum samples, means that I can record great beats and export them for use in my main DAW.
I recommend Ableton Live Intro for:
Beginner music producers
Access to essential Ableton plugins
Use as a 2nd DAW
Making simple, high-quality, beats and loops
Top tip: Try before you buy! Ableton Live offers a free trial on their website. https://www.ableton.com/trial/
Ableton Live Standard ($499 / £319)
Ableton Live Standard it the middle-priced version of the DAW. While it is quite expensive at $499 / £319, you do get a lot for your money.
This version comes with no restrictions to the number of tracks or scenes that you can use, which means that you can use it to record, mix, and master full songs. Likewise, having 12 send and return tracks should be plenty for your needs.
There are added features to, such as more plugins. The most interesting for me is the "External Instrument" plugin, which is great for triggering MIDI devices for studio use or live performances.
In addition, you also get access to more pre-loaded samples. While this isn't a reason to buy it on its own (as you can load samples into any DAW) it's really nice to have! The samples include traditional instruments, electronic beats, and more experimental sounds, which means there's something for everyone.
There's also more features for advanced music production, such as Audio-slicing to the Drum Rack, and extracting audio to MIDI.
This is the version of Ableton Live that most people will go for. For it's price range, it offers and extraordinary range of tools, sounds, and usability that really shows why Ableton Live is the market leader.
I'll be making the move to Ableton Live Standard once I get a new laptop. The good news is that I can upgrade to the next version for a reduced price through Ableton's website, as Ableton provides discounts to upgrade Ableton Live if you already own a registered version of their software.
I recommend Ableton Live Standard for:
Home studio producers
Use as your main DAW
Access to high quality sounds and samples
Live looping performances
Ableton Live Suite ($799 / £539)
Ableton Live Suite is the top-of-the-range offering and, as you'd expect, it comes packed to the brim with plugins, sounds, and other features!
Firstly, you get 11 more software instruments than you do with standard. This includes a multitude of synthesiser plugins that you can tweak and adjust to find the right sound for you. You can also trigger CV (Control Voltage) from the DAW itself. This is great if you have modular synthesisers as you can control everything from one place.
Speaking of modular synthesis, Ableton Live Suite also comes with "Max for Live". This software allows you complete flexibility to create a digital instrument, effect, or tool at a really granular level. I recommend checking out Ableton's page on it for an in-depth look.
You also get over 5,000 samples with instruments to cover any musical genre. For a music producer that's looking for a wide range of high quality samples, this package is a serious contender. Both the range and the quality means that you're more than likely to have your needs met. As well as this, for the price, you're getting a lot of samples for your money.
There's also a few MIDI effects that make this version appealing to me, and that's the Melodic Steps and Rotating Rhythm Generator. Both plugins really open up the ability to explore your sound in new and experimental ways.
Ultimately, I'd love to have this version of Ableton Live, but at this stage I don't need all the added functionality. I do see myself upgrading to this version in the future though!
I recommend Ableton Live Studio for:
Music producers who want to deeply experiment with sound
Professional studio use
Experimental live performance
Access to premium plugins and samples
Top tip: Save money! If you're in education as a student or employee, you may be able to get a discounted version of Ableton Live. Check out their website for more info: https://www.ableton.com/shop/education/
Summary
You should now have a better idea of what to expect from each version of Ableton Live, and which one you should buy.
My recommendation is Ableton Live Standard, as I believe that it will be suitable for most peoples needs. It comes with the full functionality of a DAW with a lot of added extras for the money, and will allow you to record, mix, and produce professional quality music.
To summarise:
Ableton Live Intro has restrictions on recording. Standard and Suite do not.
You can upgrade to other versions of Ableton Live at a reduced cost if you have already purchased and registered a version of their software
If you're new to Ableton Live, try out the free trial here
A full comparison between the different Ableton Live versions can be found here
Related Questions
Is Ableton Live worth the money?
I believe that Ableton Live is worth the money, depending on which version you buy and what your needs are. For most people, Ableton Live Standard will have more than enough features to satisfy their needs, and also justify the price of $499 / £319.
Can you get a free trial of Ableton Live?
Yes, you can get a free 90 day free trial of Ableton Live here
What is the Difference Between Ableton Live Lite and Ableton Live Intro?
Ableton Live Lite is a lightweight version of the Ableton Live DAW that is included with certain pieces of software and hardware, and is comparable with Ableton Live Intro. The key difference between Live Lite and Live Intro is that Live Intro only allows 8 tracks to be recorded, whereas Live Intro allows for 16. Full details of Ableton Live Lite can be found here
How many computer s can you install Ableton on?
You can install your purchased copy of Ableton Live on a maximum of 2 computers at any time. More information can be found on Ableton's website here
Is Ableton Live a subscription service?
Ableton Live is not a subscription service. At this time, you can only purchase Ableton Live for a one-off fee.
Can you buy a second-hand copy of Ableton Live?
You can buy second-hand copies of Ableton Live. Check out Ableton's guide on buying used copies here
Can you buy an older version of Live?
You can buy older versions of Ableton Live (versions 1-10). These are not currently sold by Ableton, but may be available second-hand.
What computer specs do you need for Ableton Live?
The minimum specifications for Ableton Live 11 are as follows:
Windows:
Windows 10 (Build 1909 and later)
Intel® Core™ i5 processor or an AMD multi-core processor.
8 GB RAM
1366×768 display resolution
ASIO compatible audio hardware for Link support (also recommended for optimal audio performance)
Access to an internet connection for authorizing Live (for downloading additional content and updating Live, a fast internet connection is recommended)
Approximately 3 GB disk space on the system drive for the basic installation (8 GB free disk space recommended)
Up to 76 GB disk space for additionally available sound content
Mac:
OS X 10.13 or later
Intel® Core™ i5 processor
8 GB RAM
1280×800 display resolution
Core Audio compliant audio interface recommended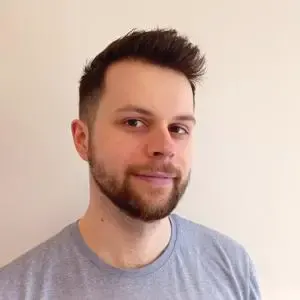 Conor is a music producer, multi-instrumentalist, and all-round enthusiast from the UK with over 15 years of experience. He's the founder and sole-content creator for the roundtable audio blog and YouTube channel.